Oyster mushrooms are one of the easily available healthful ingredient that you must include in your weekly menu. It carries vital micro nutrients and macro nutrients. Oyster mushroom is a functional food that heals and nurtures the body.
It is considered a delicacy in Japan and China. It is consumed as a soup, added to vegetables replacing pork or chicken, and stir-fried with soya sauce. In India, a variation of pale oyster mushroom is cooked with Indian spices as a side-dish.
It carries a crunchy and fleshy texture that goes very well with the onions and tomatoes in this recipe. It is technically known as pleurotus ostreatus. Oyster is one of the top three commercially grown mushrooms across the world.
Oyster Mushroom Nutrition
It carries low calories, high fibre, significant proteins and antioxidants.
Antioxidants: It carries a wide variety of Antioxidants which protect and heal our body.
Vitamins: It is a rich source of wide range of Vitamins as Vitamin A, B Vitamins (B1, B2, and B3), Vitamin C, Vitamin K, Folic Acid, and Vitamin D.
Minerals: It is a rich source of Calcium, Phosphorus, and Iron – almost twice that of Chicken and Beef.
Proteins: The quality of protein from oyster mushrooms matches with that of animal proteins.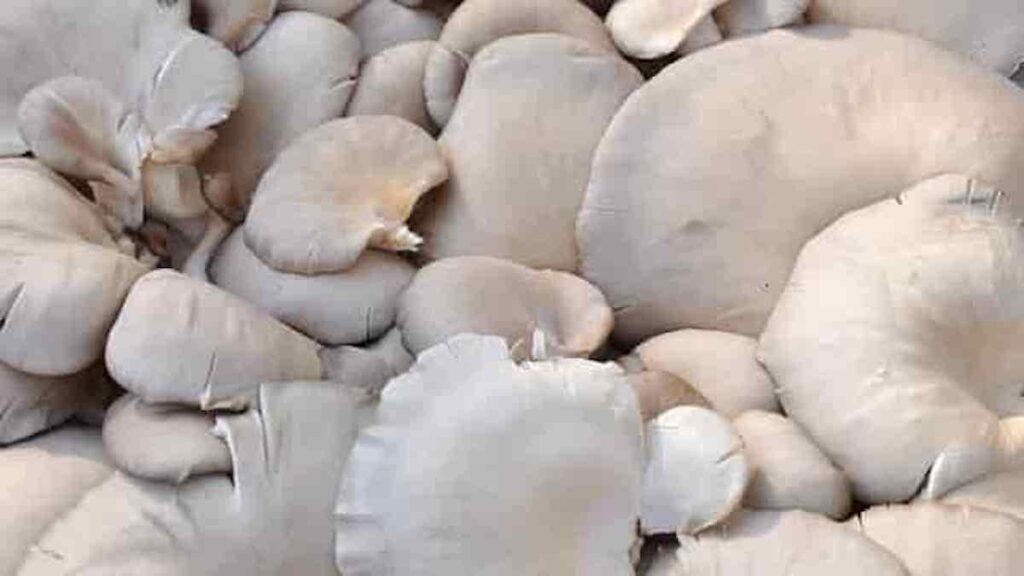 What are the Health Benefits of Oyster Mushroom?
Oyster is categorized as a functional food with medicinal and nutritional benefits.
They contain a wide variety of antioxidants. That's why, it has anti-aging, anti-inflammatory, and anti-hypertensive (regulate blood pressure) effects on the body. Here are some of the benefits:
It has an immune modulatory effect on our body. This means that they help to control the immune system, increase if immunity is low and reduce the autoimmune disorders of immune system is gone out of control.
2. Cardiovascular Health
It improves the lipid profile, hence relieving signs of dyslipidemia. It boosts heart health by regulating blood pressure and by helping to relax the blood vessels.
3. Liver Health
It protects liver and promotes healthy liver function.
Regular consumption of the mushrooms reduces the enzymes that promote production of cholesterol in liver. Therefore, it helps to control and prevent fatty liver disease.
4. Promotes Digestive System Health
It contains very high content of fiber, antioxidants and digestive enzymes.
Regular consumption of the mushroom prevents inflammation of the digestive tract and promotes digestive system health. It can help to prevent colon cancer and inflammatory GI tract disorders.
Oyster Mushroom Recipe – Indian Style Stir-Fry
Print Recipe
Oyster Mushroom Recipe – Indian style stir-fry
A simple yet super delicious Oyster Mushroom Recipe to nourish and heal! Oyster Mushrooms carry multiple healthful nutrients such as Antioxidants, Proteins, Vitamins, and Minerals. This Indian style recipe adds herbs and spices to make a super healthy Immune Booster meal option.
Ingredients
250

g

Fresh Oyster Mushrooms

1

tbsp

Cooking Oil

Use pure oils as Sesame oil, Olive oil, peanut oil, or Mustard oil.

1½

tsp

Turmeric Powder

1

tsp

Coriander seeds powder

optional

1

inch

Ginger

Finely pounded or grated.

3

cloves

Garlic

1

Medium sized

Onion

2

Medium sized

Tomatoes

1

Medium

Twig of Coriander leaves

To garnish

1½

tsp

Salt

to taste
Instructions
Preparing the Oyster Mushrooms
Wash the Oyster mushrooms well.

Oyster mushrooms can soak lot of water. Hence, squeeze out all excess water to leave them dry.

Finely chop the washed and dried mushrooms. Keep aside.
For the Oyster Mushroom recipe
Wash and finely chop all the ingredients as Onion, garlic, ginger, Tomatoes, and coriander leaves.

Heat oil in the pan on high heat.

Once the oil is slightly hot, add Onions, Ginger, and Garlic.

Bring heat to medium. Stir the mix well till it turns golden brown.

Add salt, turmeric powder, and coriander powder. Mix well.

Add in the tomatoes. Mix well and cover for 3-4 mins till the tomatoes are fully mashed and mixed with the rest.

Add in the chopped mushrooms. Mix well and cover.

Cook for 7-8 mins, till all the ingredients are mixed well.

Close the heat. Garnish with coriander leaves.

Serve hot with Chapati or rice or grains of your choice.
We would love to hear from you! If you try this recipe, do leave a comment and rate the recipe! Don't forget to take a photo, tag @medhyaherbals, and hashtag it #medhyaherbals on Instagram. Eat Well, Feel Happy, and Look Awesome!
References