Gongura leaves are one of the nutritionally dense foods, which support cleansing and rejuvenation. It is a delicious and sought after plant in Southern parts of India. A sour tasting spinach, gongura carries a unique flavor profile.
In this post you will learn about the health benefits of gongura leaves and ways of consuming them. And yes, there are also delicious and simple recipes for you to get started with. Let's dive in!
Nutritional Value of Gongura Leaves
Gongura leaves contain several essential nutrients that we need on daily basis. It contains high concentration of antioxidants, fiber, vitamins, and minerals. The leaves carry low calories and high fiber content.
This makes it an excellent food of choice for those looking to lose weight or for those, who are looking to support their health.
Given below is the nutritional profile of gongura leaves:
Vitamins: It is an excellent source of vitamin A, vitamin B1 (thiamin), vitamin B2 (riboflavin), vitamin B9 (folic acid) and vitamin C.
Minerals: The minerals present in roselle are Iron, Calcium, Potassium, Magnesium, and Sodium.
Antioxidants: Flavonoids, polyphenolic acids, and anthocyanins are the top organic nutrients and antioxidants present in roselle leaves.
Fiber: The leaves contain about 1.6g of fiber per 100g.
Proteins: Roselle leaves contain nearly 11 types of amino acids, which make it a good source of proteins. About 3.3 g of proteins is present in 100g leaves
Calories: Roselle leaves contain only 46 calories per 100g.
Gongura Plant, Variations and Uses
The scientific name of Gongura is Hibiscus Sabdariffa. It belongs to the family of Hibiscus plant and usually grows in tropical climates.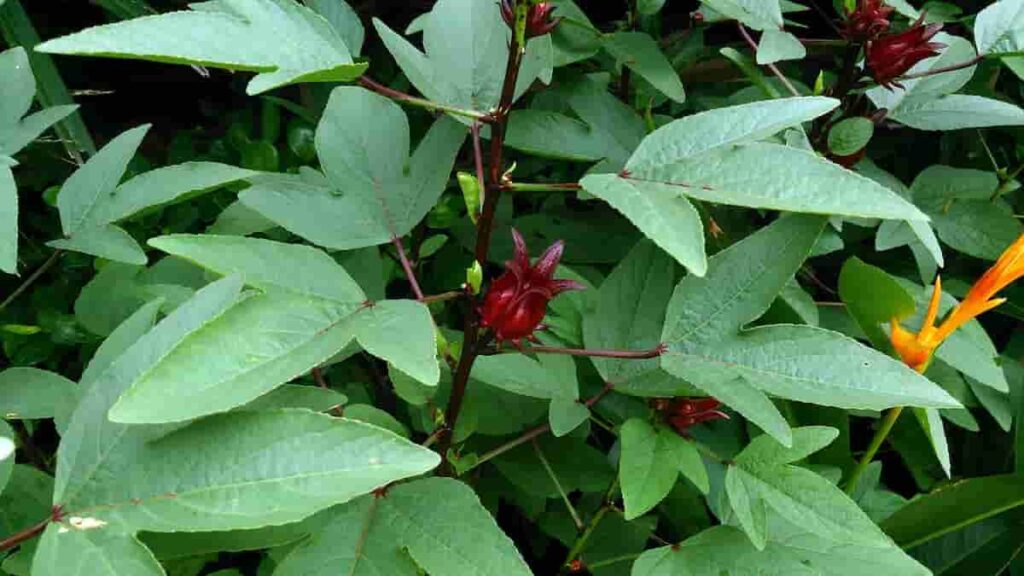 Some of the comon names of Hibiscus Sabdariffa are gongura, roselle, sour spinach, red sorrel, ambadi, ambada, Pulichchaikerai, Pulachakiri, and Mesta.
All parts of Gongura Plant are used in Cooking and for Medicine
Hibiscus Sabdariffa has sturdy stems and stalks. It has beautiful red flowers, which have tender and juicy calyces (outer petals).
Fresh leaves of gongura are light green in colour and while the older leaves are hard and dark green. Usually, the leaves are the most necessary part of the plant.
Tender gongura leaves are used in curries, chutneys, and pickles. They are often dried to make healthy and flavorful spice mixes.
Fresh and dried gongura flower is used to make juice, tea, jam, sauce, desserts, and syrup.
Seeds, pods, and stem of the plant are used in pharmaceutical industry.
A variation of roselle with beautiful red flowers is used for decoration purpose.
Season, Availability and Common Varieties
It is a annual plant. But, fresh and tender leaves usually start to flow in the market during Monsoon season. Gongura leaves gain sourness as the heat in the environment increases.
Therefore, summer variations are often much sour tasting than those available during rest of the year.
There are two types of Gongura, green-stemmed leaf and red stemmed. The red stemmed variety is much sour than the green stemmed variety.
Health Benefits of Gongura
With such a rich nutritional profile, gongura leaves have multiple positive effects on our health. Here are some of them:
1. Protects Liver and Increases Blood Quality and Quantity
The leaves and flowers have a cooling effect on the body. They clear out liver toxins and fat build up. It has a protective effect for the liver.
Regular consumption of gongura in moderation increases red blood cells count. It also helps to purify the blood. This further lowers down the load on liver.
Gongura leaves help to lower blood pressure with their high Potassium and Magnesium content.
Infact, it has remarkable ability to lower Triglycerides and bad cholesterol. It also increases the good cholesterol or high-density lipoproteins (HDL) levels in the body.
All these properties make it an amazing food for people suffering from hypertension.
3. Hair Health and Volume
The leaves can work wonders to treat dull, dry, and damaged hair. Regular consumption decreases hair loss and slows down the process of balding.
4. Reduces Breast Milk Flow
Lactating mothers can eat Gongura to reduce the milk supply, when they want to stop breastfeeding and wean their young one. Therefore, new mothers should not consume this when their baby has a requirement of breast milk otherwise it will hamper the nutritional needs of the baby.
5. Prevents Cancer
According to studies, antioxidants present in Gongura leaves can destroy the malignant cells and prevent their growth. This helps to prevent growth of cancerous cells and tumors in the body.
Besides, gongura leaves contain chlorophyll, which increases oxygen levels in the body. This action also reduces the growth of cancerous cells. Gongura is good for the patients of breast cancer.
6. Prevents Inflammation and Microbial Activity
Gongura leaves are anti-inflammatory and anti-microbial in nature. It heals ulcers, wounds, boils etc. It is also helpful to treat swelling, scorbutic diseases, ringworm, itchy skin etc.
Gongura is a rich source of Iron and Vitamin C. This makes the Iron in the leaves highly bioavailable. Therefore, women, who are suffering from low Iron levels, Anemia, and heavy bleeding during periods should take Gongura.
Besides these, the chlorophyll presents in its leaves increase the hemoglobin level in the body.
8. Improves Digestion
It improves digestion and supports digestive system health. The leaves and flowers support digestive fire and prevent toxin build up in the body.
Roselle is traditionally used to treat digestive disorders such as constipation, bloating, and diarrhea.
Regular consumption of Gongura leaves increases immunity. It has a cleansing effect on the liver, kidneys, and digestive tract. Therefore, it helps to flush the toxins out.
Gongura contains vitamin C, which is also known as the ascorbic acid. It supports the immune function by increasing WBC count and antibodies.
Gongura leaves contain good level of calcium and Magnesium. Regular intake of the leaves can make your bones stronger.
However, it should be consumed in moderation for full benefits.
11. Promotes Circulation and Helps to sleep better
Roselle promotes circulation in the body and clears the lymphatic system.
It promotes sleep and relaxes the nervous system. Take few leaves of Gongura every day with your salad or you can take roselle tea (recipe below).
12. Great for Eyes
It contains high levels of vitamin A in the form of beta-carotene. It helps to improve eyesight and prevents night blindness.
13. Helps Manage Diabetes
The antioxidants present in the leaves also help to manage the blood glucose level. This feature makes them highly desirable and effective for Prediabetics and patients with Type 2 Diabetes.
14. Prevents Urinary Tract Infection – UTI
The antibacterial properties of Gongura help in curing of different kinds of urinary tract infections and sexually transmitted diseases.
15. Supports Skin Health
Gongura plant supports blood quality and circulation in our body. It also helps to flush the toxins out. This clears skin of the disorders and increases fairness of the skin.
It provides essential amino acids that support growth of skin tissues.
Caution while consumption of Gongura
Even though Gongura has many medicinal and useful properties, still we should consume it in moderation. Like everything else, too much of good things can be harmful. Some points to take note of:
1. High Oxalic Acid in Leaves disrupts Calcium Absorption
Roselle leaves contain high levels of Oxalic acid. It interferes with our ability to absorb calcium. Therefore, excessive consumption of the leaves (specifically in the raw form) should be avoided.
Always prefer tender leaves for consumption. This is because, old leaves contain much higher amount of oxalic acid than the fresh leaves.
Since the leaves are sour tasting, hence excessive consumption can promote Kapha and Pitta Imbalance. This can trigger skin rashes, bleeding disorders, and fungal infections.
People who are struggling with Asthma should consume gongura leaves in moderation.
3. Avoid Metallic Cookware that can undergo reaction with the leaves
Avoid cooking roselle in aluminum, copper, or iron cookware. The oxalic acid present in the leaves has an acidic reaction with the metal. Therefore, it can make the food toxic and unsuitable for use.
4. Avoid during Lactation
It should not be consumed by lactating mothers as it can reduce milk supply.
Healthy Recipes with Gongura Leaves
Gongura leaves can be consumed raw as a salad, lightly stir-fried, or added to curries. or boiled to have as a beverage. It gives a delicious and tangy taste to both vegetarian and non-vegetarian preparations. It is often added to chicken and mutton curries in India. For vegetarian options, combinations with lentils, tofu, other veggies go well.
The leaves are sturdy when raw, but they wilt off very fast and turn super soft when heated. Addition of Ghee and Chili imparts a delicious taste to the preparations with Gongura.
1. Gongura Leaves Pachadi – Chutney – Pickle
Print Recipe
Sweet and Sour Gongura Pachadi – Sorrel Leaves Chutney
This Gongura Pachadi recipe is super easy and delicious. It is sweeter and crunchier in texture than typical Andhra style Gongura pachadi. Adding jaggery and peanuts makes it easier and inviting for kids.
Ingredients
200

g

Fresh Gongura leaves

4

Cloves

Garlic

1

Medium

Onion

1

Regular

Dried Red Chili

Optional

1

tsp

Salt

To taste

1½

tsp

Turmeric

1½

tsp

Coriander Powder

Optional

1

tsp

Mustard Seeds

2

tbsp

Peanuts

Roasted

2

tsp

Jaggery

powder

1

tbsp

Cooking Oil

Use sesame oil, ghee, coconut oil, peanut oil or mustard oil. Any cooking oil that is not refined and pure in nature would go well.
Instructions
Separate the leaves from the twigs. Properly wash gongura leaves.

Finely chop the Gongura leaves and keep aside.

Pound the jaggery or grind to make powdered or smaller pieces. This will make it easier to mix.

Finely chop the onion and garlic and keep aside.

Once the oil is hot, add mustard seeds. Let the seeds splutter.

Add garlic and let it turn golden yellow.

Break the chili in two pieces and add to the pan.

Add onion and salt. Stir till onions turn golden brown.

Add turmeric powder, coriander powder, and jaggery powder.

Add the leaves. Mix well and cover for 5 mins or till the leaves have wilted off nicely.

Add the roasted peanuts on the top. Mix well.

Serve hot with steamed rice or chapati.Enjoy!
2. Gongura Tea
List of Ingredients
Few Gongura leaves
Small cinnamon stick
2 Cloves
1 Cup Water
Jaggery- 1 tsp (optional)
Method of Preparation
Boil 1 cup of water, then add some dried leaves and the crushed spices.
After 3 minutes strain the tea into a cup and add sugar as per your taste.
3. Gongura Pappu – Yellow Beans Soup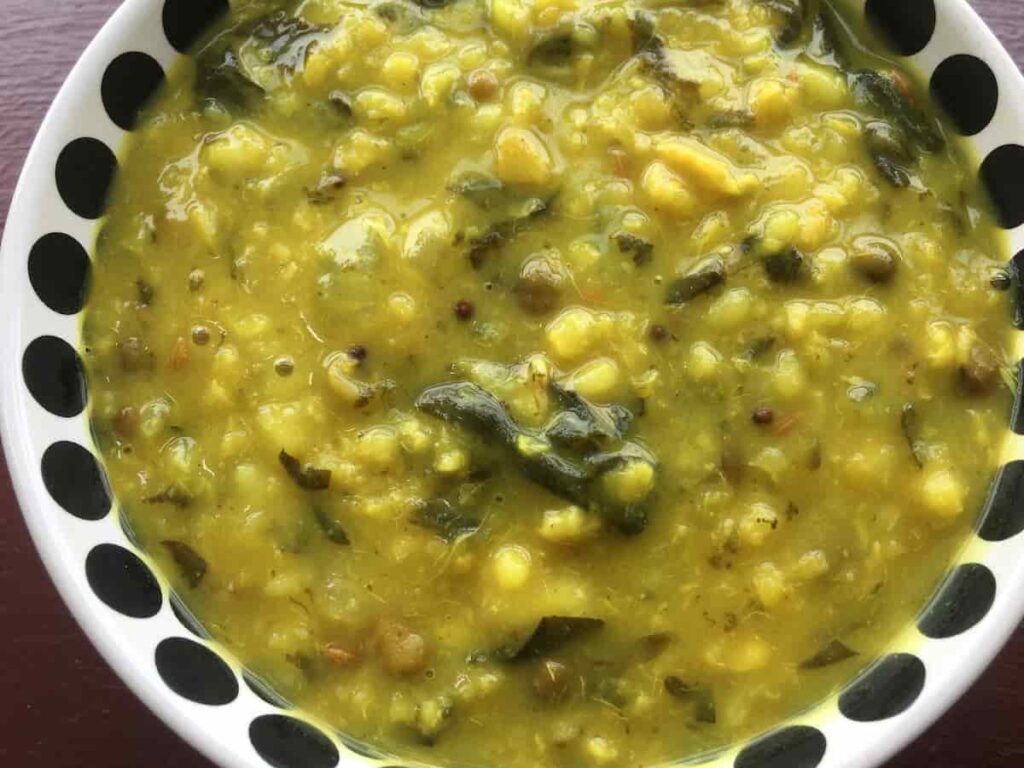 Print Recipe
Gongura Pappu – Sorrel Leaves and Beans Soup
This is a delicious tangy soup recipe made with yellow beans and gongura leaves. It has a rich creamy texture and it is bursting with the flavour of gongura leaves.
Ingredients
1½

cups

Yellow pigeon peas (toor daal) or mung beans

1

bunch

Fresh Gongura leaves

about 200 g

1½

tsp

Mustard Seeds

1½

tsp

Turmeric Powder

1½

tsp

Coriander Seeds Powder

2

tbsp

Ghee

Or any pure cooking oil

1

pinch

Asafetida

1½

tsp

Roasted Cumin seeds powder

optional

1

Medium

Onion

2

Garlic Cloves

1½

tsp

Salt

To taste

2

tsp

Black Pepper
Instructions
Preparing the Beans and Leaves
Wash and soak the beans for about 30 mins.

Wash the gongura leaves. Separate leaves from the sturdy stems and discard the stems.

Coarsely chop the gongura leaves. They wilt off and becomes super soft, so coarse cut is fine. Keep aside.

Fine chop onion and garlic. Keep aside.
Preparing the soup
Heat the pressure cooker and add ghee. When ghee is hot, ad din asafetida and mustard seeds.

Let the seeds crackle. Now add in chopped onion and garlic. Mix well and let it turn golden brown.

Add in turmeric powder, salt, and coriander seeds powder. Stir for another few seconds.

Now add chopped gongura leaves, beans, and 3 cups water.

Close the pressure cooker and bring heat to medium.

Let the mix cook for 5-7 minutes or till you get 2 whistles. Close the heat.

Sprinkle cumin seeds powder and black pepper.

Serve hot with rice or chapati. Enjoy!
Notes
This recipe can also be made in a slow cooker or rice cooker as we have used yellow beans in here. Simply soak the yellow beans for about 3-4 hours to reduce the cooking time.
We would love to hear from you! If you try this recipe, do leave a comment and rate the recipe! Don't forget to take a photo, tag @medhyaherbals, and hashtag it #medhyaherbals on Instagram. Eat Well, Feel Happy, and Look Awesome!
References