Shiitake mushroom is widely available in South East Asia and it is one of the top five cultivated edible mushrooms. Its technical name is Lentinula Edodes and it is available in both dried and fresh formats across the grocery shops.
Shiitake mushroom is consumed across Japan, China, and Korea for their rich medicinal and nutritional properties.
Shiitake Mushroom have high medicinal and nutritional value
It is a rich source of Proteins, Antioxidants, Minerals, and Vitamins.
Rich source of Vitamins, especially Vitamin D2 and B Vitamins such as B1, B2, B12, and Pantothenic Acid.
It is a good source of antioxidative minerals like Selenium, Manganese, and zinc, and also has significant concentrations of Iron, Potassium, Calcium, Magnesium, and Phosphorus.
Shiitake mushroom contains nearly 55% carbohydrates, 23% protein (digestibility of which is 80%), about 9% soluble dietary fiber, and about 3% lipids.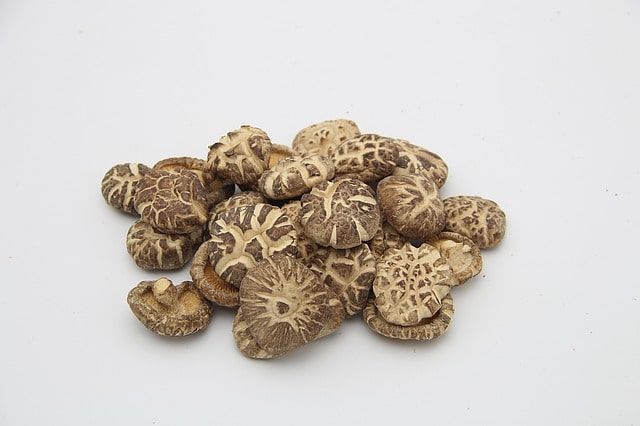 Health Benefits of Shiitake Mushroom
Research based on the animal study has concluded that it inhibits fat deposition and lowers triglycerides. Hence, it is a great functional food to prevent obesity.
Heart-healthy – reduces cholesterol levels in the body.
Carries bioactive compounds that have antibiotic, anticarcinogenic, antithrombotic, and antiviral (interferon-inducing) properties.
Due to its high concentration of bioactive compounds, shiitake supports the Immune System. Hence should be included in the diets of cancer patients and those suffering from AIDS.
Shiitake is one of a plant based source of essential Vitamins like Vitamin D and B12.
Healthy Wraps – Shiitake Mushroom, Lemon Basil, and Vegetables of Choice
This recipe is fairly easy and can be customized per the availability of ingredients. You will be ensured of rich flavor and aroma with the use of fresh basil and shiitake mushroom.
This is a great meal option for Diabetics, new and expecting mothers and those suffering from inflammatory disorders.
Cooking Tips and Suggestions
The vegetable mix with Shiitake Mushroom is easy to make and takes very less time.
The only trick here would be left in making good base for the wraps. We chose Indian pan-cooked bread – chapati or roti for wrap's base. It is a popular staple food across Northern India.
In case you find this part tricky, replace chapati with tortilla wraps or wholemeal wraps base.
Print Recipe
Shiitake Mushroom and Lemon Basil Healthy Wraps
Shiitake mushroom wraps is a healthy and nutritious meal option. It is an easy and quick preparation. This recipe is rich in fiber, Vitamins, Proteins, and Minerals. It is kids friendly. It is highly satiating and nourishing.
Ingredients
250

g

Fresh Shiitake Mushrooms

100

g

Baby Corn

Optional Or It can also be replaced with fresh corn.

2

Medium

Leeks

3

Garlic Cloves

100

g

Cherry Tomatoes

Or Regular ripe tomatoes

1

cup

Fresh Lemon Basil

Or Sweet Basil /Coriander Leaves/ Thyme / Italian Basil

2

tsp

Rock Salt

To taste

2

tbsp

Cooking Oil

Pure and Unrefined Oils of your choice. We used olive oil.

1½

tsp

Black Pepper

Optional

50

g

Hard Cheese

We used Gouda cheese here. It can be replaced with Paneer (Indian cottage cheese), or other cheese such as Mozzarella, or with Tofu per availability in your region.

2

tsp

Vinegar

We used rice vinegar – (optional)

1

tbsp

Roasted black/white sesame seeds

3

cups

Whole wheat flour

To make chapati dough for 10-12 chapatis

5

tsp

Ghee or Pure Olive Oil

To make chapati.
Instructions
Preparing and Cooking the Veggies
Wash and chop the shiitake mushroom to 1 cm pieces. Keep aside.

Chop the baby corn, leeks, and cherry tomatoes to 1 cm pieces as well.

Coarsely chop the lemon basil.

Grate the cheese and keep it aside.

Heat an iron skillet or a deep pan and add vegetable oil.

Add garlic and stir till it turns golden brown.

Add the mushrooms, stir on medium heat for 5 mins till they soften and start to release water.

Add the rest of the cut vegetables and salt. Mix well and cover on low heat for another 5-7 mins.

When vegetables are almost cooked, then add chopped lemon basil, pepper, and sesame seeds. Mix well and cover. Keep the heat on for another 5 mins on low.
Making the Wraps
On the other side, start rolling and the dough into small balls and flatten it to make chapati.

Heat a flat pan and cook the chapati with 1-2 drops of oil on both sides.

Once the chapati is cooked, add the vegetable mix inside and sprinkle grated cheese on top of the vegetable mix.

With the heat of the vegetables and chapati, the cheese will melt immediately, thus adding to the texture and flavor.

Fold in half as shown in the picture and serve as it is or accompanied by Hummus/Guacamole/Hot Chili sauce. Enjoy!
To make Chapati from whole wheat flour – Atta
Start kneading the dough by slowly adding water (in tablespoons) to the flour. Keep kneading the dough simultaneously.

Once the dough is made, keep it aside and cover it for 10 mins.
To make the Chapati – Indian Flat bread
Roll the dough into small golf-ball shaped balls.

Flatten the balls with a roller to make circular discs.

Place the disc on a hot pan and heat it well on both sides to make hot Chapatis. Apply oil if needed.
We would love to hear from you! If you try this recipe, do leave a comment and rate the recipe! Don't forget to take a photo, tag @medhyaherbals, and hashtag it #medhyaherbals on Instagram. Eat Well, Feel Happy, and Look Awesome!