This recipe of king oyster mushroom is made with bell peppers and herbs. I have also added little turmeric to it (haha..being Indian, I can't help it) and that's why you see a yellowish tinge here.
King oyster mushroom are rich source of vitamins, minerals, and proteins. They are recommended for people looking to manage their cholesterol levels, blood sugar levels, and those aiming for weight loss.
King Oyster Mushroom
King oyster mushroom is the largest member of the oyster mushroom family. Usually oyster mushrooms have a big thin cap and thin small stem. It is also known as king trumpet mushroom.
But the king oyster has a fairly small and round cap. It has a wide and long stem, which is fairly chewy and chunky. And yes, it forms the main part of the dish that you are making.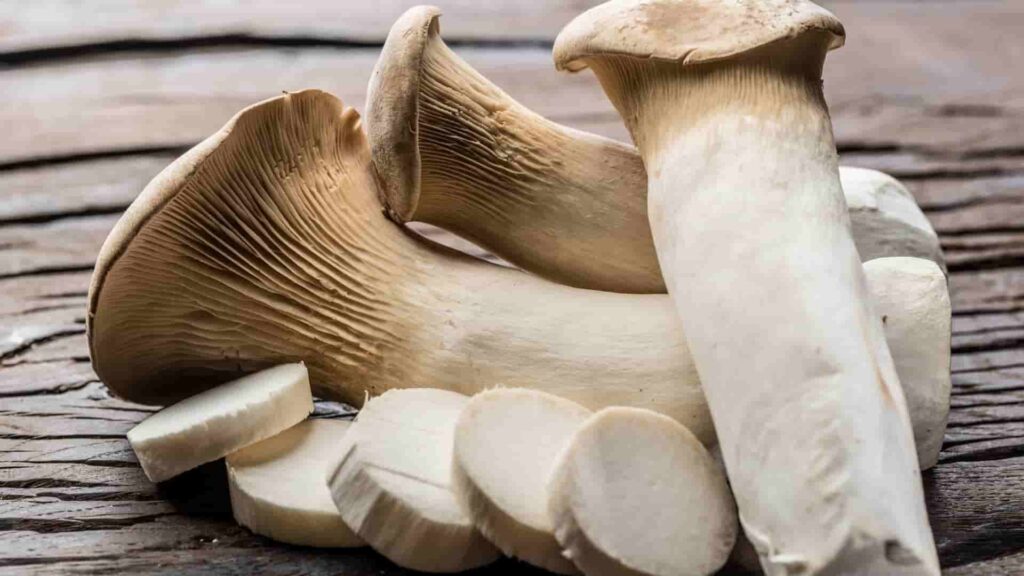 How to Cook the King Oyster Mushroom?
You can add king oyster mushroom to stir-fries, soups, curries or have it in grilled form. It is fairly versatile, bringing in a rich flavour and firm texture to your dishes.
Size of the mushroom makes a difference. If you cut bigger, taste and texture will be crispy and crunchy. And for small cut, it would be softer and chewy. Try both ways and see which one you like more.
When you slowly simmer the king oyster mushrooms, you will get better flavour, texture and make them easier to digest. It doesn't make them soggy but definitely more delicious.
Also, try to break them with hand instead of the knife. This enables the mushrooms to soak the flavour of the spices and herbs better than the clear surface of the knife cut mushrooms.
Health Benefits
King oyster are a rich source of B Vitamins, Folate, Antioxidants and Minerals. They carry few calories but impart many health benefits. Here are some:
It is a good source of Vitamin B1, B2, B3, B5, vitamin B6, folate and Vitamin D.
King Oyster provides minerals as phosphorus, potassium, copper, iron, magnesium, zinc and manganese.
Supports heart health, lowers bad cholesterol and promotes better blood sugar levels.
King oyster provides with good dietary fibre, which also acts as prebiotics for better gut health.
Oyster mushrooms are a rich source of antioxidants and bio active compounds. They help to reduce the inflammation in the body and boost the immune system response.
Recipe King Oyster Mushroom
This recipe is super easy, highly nutritious and utterly delicious. I could substitute this with home made chapati for the pizza demanded by kids.
Print Recipe
King Oyster Mushrooms with Red Bell Pepper and Herbs de Provence
Herbed King Oyster Mushrooms with bell pepper is a quick, delicious, and super healthy meal option. It is chewy, smooth, and carries aroma of garlic and herbs. Rich source of proteins, Iron, antioxidnats, and B Vitamins.
Ingredients
2

Fresh King Oyster Mushrooms

About 400 g

2

Medium

Red Bell Pepper

3

Garlic Cloves

1

inch

Ginger

1½

tbsp

Dried Herbs | Herbs de Provence

Replace dried herbs with ½ cup of Fresh Basil OR Chives OR Parsley OR Green Onion

2

tbsp

Extra Virgin Olive oil

Pure and Unrefined Oils of your choice.

1½

tsp

Black Pepper

Optional

1

tsp

Turmeric Powder

1

tbsp

Grated Cheese

optional

1½

tsp

Rock Salt

To taste or replace with soy sauce
Instructions
Wash and chop the king oyster mushroom to ½ inch pieces.

Same with bell pepper, wash well and cut in small pieces.

Coarsely chop fresh herbs (in case you are using them)

Pound together or finely chop garlic anf ginger.

Heat an iron skillet or a deep pan and add cooking oil.

Add garlic ginger mix and stir till it turns golden brown.

Add the mushrooms, stir on high heat for 2-3 mins till they soften and start to release water.

Now add cut bell peppers, salt, and herbs. Mix well. Cover and cook on low heat for another 5-7 mins.

Close the heat. Check that mushrooms have softened upto the texture you would like. Keep covered.

Serve with steamed rice or bread. Enjoy!
Notes
Size of the mushroom makes a difference. If you cut bigger, taste and texture will be slightly different. Try both ways and see which one you like more.
We would love to hear from you! If you try this recipe, do leave a comment and rate the recipe! Don't forget to take a photo, tag @medhyaherbals, and hashtag it #medhyaherbals on Instagram. Eat Well, Feel Happy, and Look Awesome!