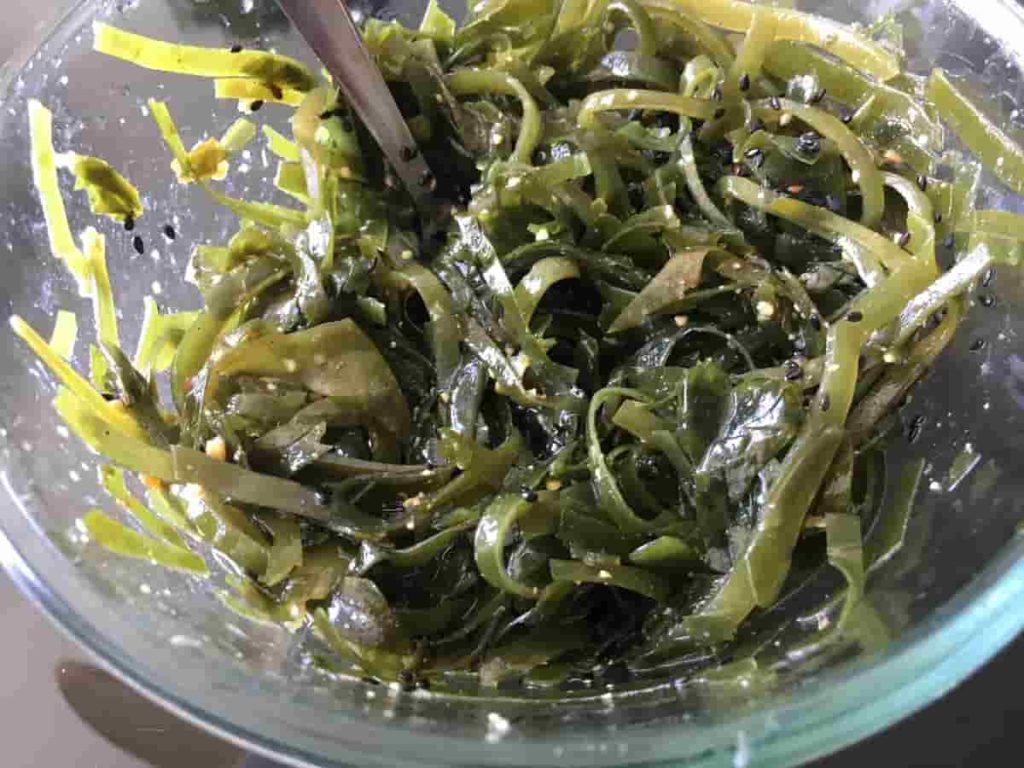 Kelp is one of the richest sources of dietary Iodine. It is an easily available superfood that must be included in your weekly menu should you particularly be suffering from health conditions such as Hypothyroidism, Diabetes, Tumors, and or looking to lose some pounds through healthy eating.
This salad recipe carries flavours of soy, vinegar, and sesame. It is best takes as a side. It is prepared in Japanese style using traditional ingredients.
We have provided some suggestions for alternatives should you be missing one or few ingredients.
Print Recipe
Kelp Salad – Japanese Style – Easy, Nutritious, and Delicious
Ingredients
1

cup

Dried Kelp

Also known as Kombu in Japanese. It can be replaced by 2½ cups of fresh Kelp if you have it.

2

tbsp

Roasted Sesame Seeds

Black or White
For the Salad Dressing
2

tbsp

Soy Sauce

1

tbsp

Rice Wine

Rice Wine is known as Mirin in Japanese. (Optional)

1

tbsp

Rice Vinegar

Can be replaced by freshly squeezed lime

1½

tsp

Miso Paste

Can be replaced by roasted and ground peanut paste, added with soy sauce and vinegar.

1½

tsp

Jaggery Powder or Brown Sugar

1

tbsp

Virgin Sesame Oil

Black or White
Instructions
For Kelp Salad Dressing
Mix all the ingredients together in bowl and keep aside
For the Kelp
Boil 3 cups of water in a pan

Once the water is boiled, add the dried kelp.

Keep the kelp soaked in water for 10 mins till it absorbs the water well and becomes softer and smoother in texture.

Drain the water and wash the kelp.

Cut the kelp in smaller pieces with a scissor if required.

Let the kelp cool down to room temperature.

Pour the dressing over the kelp and mix well.

Sprinkle roasted sesame seeds on the salad and serve.
We would love to hear from you! If you try this recipe, do leave a comment and rate the recipe! Don't forget to take a photo, tag @medhyaherbals, and hashtag it #medhyaherbals on Instagram. Eat Well, Feel Happy, and Look Awesome!