Kelp Salad is a super simple, yet utterly delicious and healthy addition to your meals. This kelp salad recipe is prepared from dried Kelp in Japanese style. Dried Kelp is easily available in supermarkets, specifically in Japanese grocery stores in most of the cities.
Kelp is one of the richest sources of Dietary Iodine for Vegans and Vegetarians. Should you be struggling with health issues related to hormonal imbalances, specifically Hypothyroidism, do include this recipe in your weekly menu, at least a couple of times. You can also make this kelp salad recipe with fresh kelp if it is available in your area.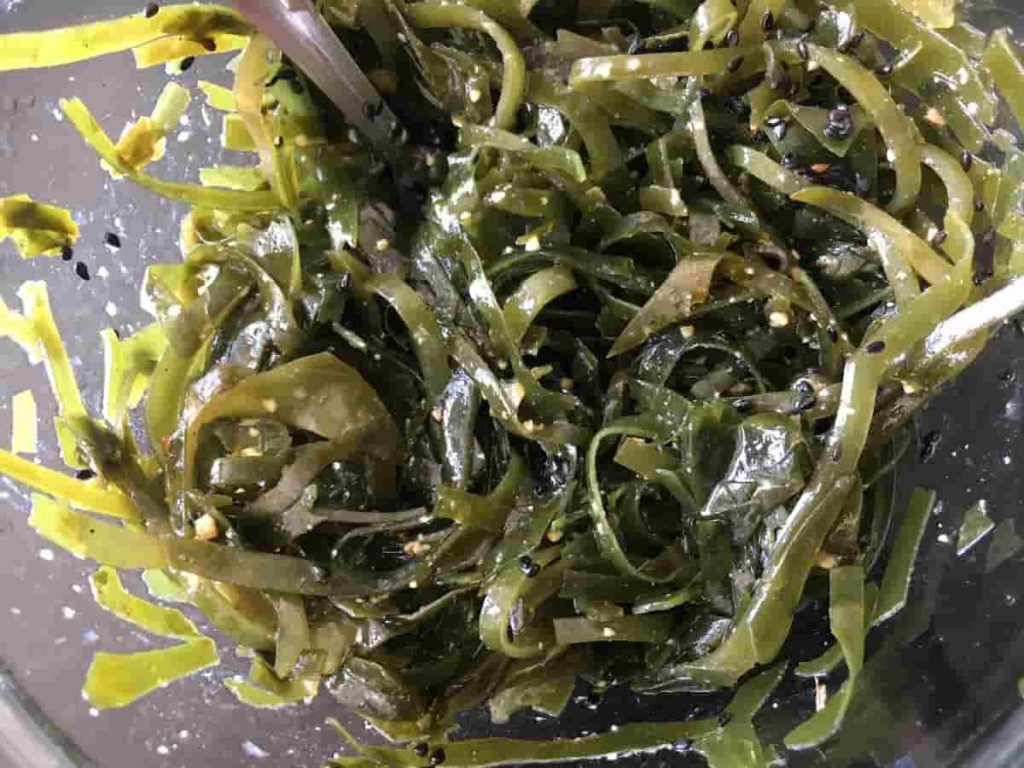 Kelp Salad Consumption
Cautious Use
Kelp should be included in the diet as a whole food or along with other food items, as it moderates the use and provides health benefits without any side effects. As a supplement i.e. for regular use on higher amounts, Kelp is not advisable for pregnant women, those on blood thinning medication, and for Thyroid patients as large amounts can create Iodine excess.
Kelp can be consumed as Kelp Salad, or added to noodles, soups, fried rice, and to curries.
Kelp is one of the popular seaweeds around. Dried kelp is known as Kombu in Japanese. It is a brown seaweed, which is grows underwater in the shallow and nutrient rich parts of the ocean.
Since ancient times, Kelp has been traditionally used for both nutritional and therapeutic purposes.
Kelp Nutrition Profile
Technically, Kelp is not a seaweed, but belongs to the family of brown algae. As with rest of the food items, nutritional profile of kelp may vary depending on the source.
It is a rich source of vital Minerals such as Iodine, Potassium, Magnesium, Iron, and Calcium.
It carries high concentration of Vitamins such as Vitamin A, B Complex, Vitamins K, and Vitamin C.
Kelp has very high concentration of Antioxidants and beneficial bioactive compounds.
It is a good source of proteins and carries high fibre content.
Kelp Health Benefits – Why add Kelp Salad to your Weekly Menu?
Blood Purifier and Rich source of Iron
Kelp is a rich source of chlorophyll, which has helps build new blood cells.
It purifies the blood cells, prevents oxidative stress and helps heal the damaged blood cells.
It prevents clotting and reduces existing blood clots.
Rich source of Iodine – Supports Thyroid Health
Kelp is one of the richest sources of Iodine.
Iodine is one of the key ingredients for thyroid health. Including Kelp in your diet in moderation would support thyroid balance naturally.
Supports Weight Loss and Prevents Metabolic Health Disorders including Diabetes
It is a dense source of nutrients and carries few calories.
Kelp supports digestive health, hence keeping your bowel movements on track, and preventing weight gain.
Kelp prevents fat absorption from the meals, hence reducing the fat tissue growth.
It increases insulin sensitivity and lowers down high insulin levels.
Anti-viral, Anti-Cancer, and Anti-inflammatory
Kelp is a rich source of antioxidants, hence has anti-inflammatory properties against tumors and malignant cell formation.
It has anti-viral properties as it supports the health of Immune system.
Kelp has anti-cancerous properties, it prevents free radical damage, and has healing effect on malignant cells.
Kelp Salad Recipe
This Kelp Salad recipe is prepared in Japanese style using traditional ingredients. We have provided some suggestions for alternatives should you be missing one or few ingredients.
Print Recipe
Kelp Salad – Japanese Style – Easy, Nutritious, and Delicious
Ingredients
1

cup

Dried Kelp

Also known as Kombu in Japanese. It can be replaced by 2½ cups of fresh Kelp if you have it.

2

tbsp

Roasted Sesame Seeds

Black or White
For the Salad Dressing
2

tbsp

Soy Sauce

1

tbsp

Rice Wine

Rice Wine is known as Mirin in Japanese. (Optional)

1

tbsp

Rice Vinegar

Can be replaced by freshly squeezed lime

1½

tsp

Miso Paste

Can be replaced by roasted and ground peanut paste, added with soy sauce and vinegar.

1½

tsp

Jaggery Powder or Brown Sugar

1

tbsp

Virgin Sesame Oil

Black or White
Instructions
For Kelp Salad Dressing
Mix all the ingredients together in bowl and keep aside
For the Kelp
Boil 3 cups of water in a pan

Once the water is boiled, add the dried kelp.

Keep the kelp soaked in water for 10 mins till it absorbs the water well and becomes softer and smoother in texture.

Drain the water and wash the kelp.

Cut the kelp in smaller pieces with a scissor if required.

Let the kelp cool down to room temperature.

Pour the dressing over the kelp and mix well.

Sprinkle roasted sesame seeds on the salad and serve.
We would love to hear from you! If you try this Kelp Salad recipe, do leave a comment and rate the recipe! Don't forget to take a photo, tag @medhyaherbals, and hashtag it #medhyaherbals on Instagram. Eat Well, Feel Happy, and Look Awesome!