Enoki Mushroom is also known as Golden Needle mushroom, Enokitake, and Velvet Shank. Its technical name is Flammulina velutipes and it is widely popular in Japan, Korea, Vietnam, and China.
It is available in white (more common) and different shades of Orange and Brown (mostly wild but sometimes cultivated too).
It gives a delicious sweet taste to the foods to which it is added to. Historically it was used in Chinese medicine to treat digestive tract ulcers and to cure liver diseases.
Enoki Mushroom is rich in Nutrients and Taste
Enoki mushroom is a rich source of proteins with essential amino acids, dietary fiber, Vitamins, Minerals, and unsaturated fatty acids.
It contains a very high concentration of Polyphenols, Vitamin E (Tocopherols), Vitamin C, Vitamin A (Beta Carotene and Lycopene). All of them are known for their anti oxidative properties.
Enoki has fewer calories and is essentially cholesterol free.
It is a great source of polysaccharides that act as Prebiotics have a positive effect on metabolism.
It is a rich source of B Vitamins, Potassium, Phosphorus, and contains trace amounts of Zinc.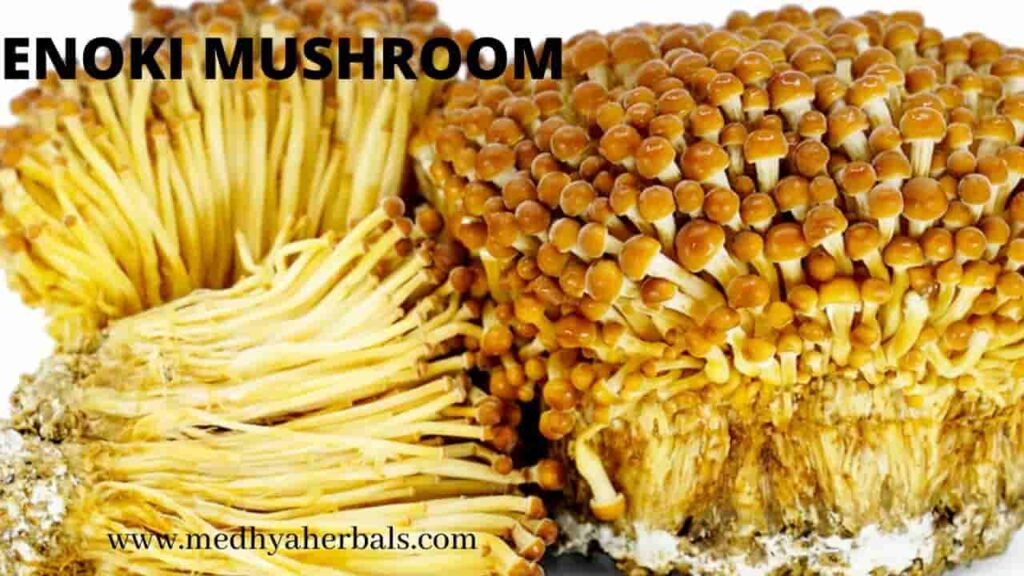 Health Benefits of Enoki Mushroom
Enoki mushroom is health-promoting for its rich nutrient profile, the presence of bioactive compounds that support the body's systems.
Anti-inflammatory and Supports Immune System
Enoki possesses immuno-modulatory properties, meaning it can either regulate an overactive immune system or boost immunity if it is low.
Great for cancer patients as the polyphenolic compounds in Enoki prevent tumors, cancer, scavenge free radicals, and also have chemopreventive properties.
Due to a high concentration of antioxidants, it has anti-aging and anti-inflammatory properties.
Lowers Cholesterol and Supports Heart Health
Heart-friendly as it helps to lower the bad cholesterol (LDL) and regulates blood pressure.
Fermented Enoki reduces and removes blood clots as it is antithrombotic in nature. Hence, highly recommended for people suffering from high cholesterol issues.
Reduces blood triglycerides levels, prevents fat deposition onto the liver, and increases metabolism of cholesterol to cholic acid.
Polyphenolic acids in Enoki mushroom have anti-atherosclerotic properties as they prevent oxidation of LDL cholesterol, hence reducing the risk of hardening of arteries.
Supports Metabolism and Prevents Diabetes
Enoki mushroom helps regulate blood sugar levels, hence making it a great food for Diabetics.
Supports the biome or gut bacteria due to a high concentration of polysaccharides, which have multiple effects including stress reduction, digestive health, and nutrient absorption.
Brain Health and Skin Health
Enoki Mushroom has the ability to restore the neurotransmitters that are associated with memory and learning due to its concentration of polysaccharides.
The polysaccharides – proflanin and flammulin present in Enoki promote skin health and provide it the glow.
Enoki Mushroom Glass Noodles Recipe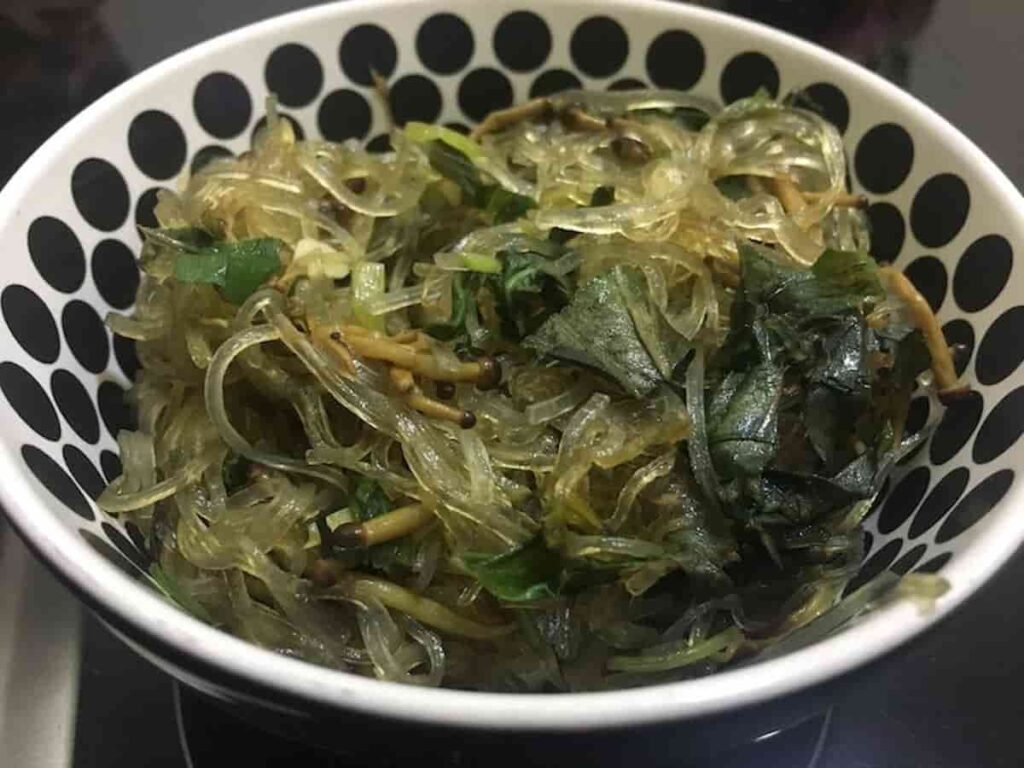 Print Recipe
Enoki Mushroom Lemon Basil Glass Noodles
This Enoki Mushroom glass noodles recipe is made in Vietnamese style. It is a one-pot meal with cooking time divided equally between preparation and on the stove. It is utterly delicious, full of flavours and antioxidants, super healthy, and a great meal option to please the little ones.
Equipment
Heavy Bottom Pan or Skillet
Ingredients
200

g

Enoki Mushrooms

We took brown Enoki Mushroom (also known as golden needle mushroom) for this recipe

200

g

Spring Onions

finely chopped

3

Garlic Cloves

finely chopped or pounded

1

inch

Fresh ginger root

finely chopped or pounded

1

Red Chili

Optional. Cut into 2 half pieces for nice flavor.

1

tbsp

Peanut Oil

Or any pure oil of your choice

4

tsp

Rice Vinegar

1½

tbsp

Soy Sauce

We used naturally brewed dark soy sauce

1½

tbsp

Pur Sesame Oil

300

g

Dried Glass Noodles

we used Arrowroot Noodles

4

sprigs

Lemon Basil

Finely chopped. It can also be replaced with coriander leaves or sweet basil or Italian basil
Instructions
Cooking the Noodles
Soak the arrowroot noodles in cold water for 15-20 mins. This was a step as described on the pack. You can follow the instructions on your pack.
Cooking Vegetables
Wash and separate the Enoki mushrooms into smaller bunches of 4-5 mushrooms together. Usually, they are available as a big lump, hence the need to separate them into smaller pieces.

Fine chop or pound together ginger and garlic. Keep aside.

Fine chop the spring onions. Keep aside.

Fine chop the basil leaves and keep aside.

Heat the pan or wok on medium and put oil.

Once little hot, add ginger, garlic, and chili.

Once the mix is little golden brown, increase the heat to high.

Add the enoki mushroom and let it cook for 2 mins on high heat. Keep stirring.

Add the spring onions on high heat and cook for another 2 mins. Keep stirring.

Add the glass noodles, put a little water (2-3 tablespoons) so that glass noodles can get soft.

Add vinegarand sesame oil. Mix for another 5 mins.

Add chopped basil leaves and soy sauce and mix well.
Notes
To make glass noodles, we used arrowroot noodles. You can also use tapioca or bean noodles. They have same glass noodles texture and very similar taste. For nutrition profile, bean noodles are better than arrowroot or tapioca.
We would love to hear from you! If you try this recipe, do leave a comment and rate the recipe! Don't forget to take a photo, tag @medhyaherbals, and hashtag it #medhyaherbals on Instagram. Eat Well, Feel Happy, and Look Awesome!