Butternut Squash Soup is a super delicious and nutritious must have! With just a few ingredients, one pot, and loads of love; butternut squash soup can be turned around quickly.
Due to highly versatile nature of the squash, butternut squash soup can be prepared in multiple ways. You can make the soup by first roasting the butternut squash or simply by boiling it along with desired herbs and ingredients.
The taste of the soup will depend on the way of cooking and choice of ingredients, however the texture would be more or less similar.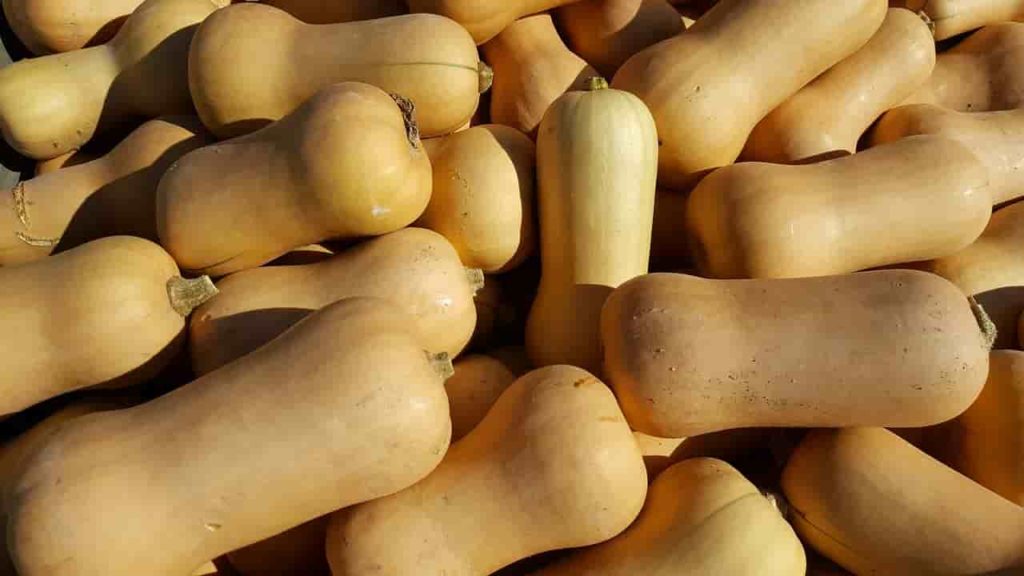 How to prepare Butternut Squash?
Unlike other vegetables in the family of pumpkin, Butternut squash has thin but hard skin, which needs to be removed. The squash is however pretty soft and cooks very fast! Usually, the preparation process would involve a strong but thin skin peeler, which can take off the skin nicely without wasting part of the vegetable.
We made this soup recipe by first roasting the butternut squash in a pan on high flame. You can also roast the butternut squash in an oven. Steps are given in additional notes of the recipe section.
Health Benefits of Butternut Squash
Butternut Squash belongs to the family of Pumpkin and Zucchini. It is low in calories but high in fibre and nutrients. Butternut squash carries multiple Vitamins, Antioxidants, and Minerals. It is a great vegetable to boost your Immunity and to fire up your digestive fire or metabolism.
Butternut squash is a rich source of Vitamin A, Vitamin C, and folic Acid.
It carries sufficient minerals such as Iron, Calcium, Potassium, Phosphorus, and Manganese.
It is a rich source of Antioxidants and fibre to prevent inflammation and boost Immunity.
Who should eat Butternut Squash Soup?
This butternut squash soup recipe is an ideal addition to the meals of children, pregnant women, new mothers, and those suffering from hypertension, Diabetes, and inflammation related health disorders.
Butternut squash is a must add for people suffering from health conditions such as Diabetes, Hypertension, and Cancer.
Butternut squash soup is a great addition to the meals for women health, specifically for those suffering from PMS or Menopause Syndrome.
Pregnant women and new mothers should consume butternut squash on weekly basis as it provides with essential nutrients and fibre to keep health and constipation in check.
Butternut squash soup can be a great addition to the meals of children as it boosts their immunity. Additionally, it pleases the tastebuds of children with its sweet and creamy taste and texture.
Print Recipe
Pan Roasted Butternut Squash Soup – Delicious and Fragrant
This butternut squash soup recipe carries creamy and smooth texture of the butternut squash. Pan roasting the squash along with garlic and herbs gives a delicious aromatic flavour. It is one pot recipe, requiring minimum level of preparation. This butternut squash soup recipe can be turned around quickly and easily.
Equipment
Blender or Grinder

Heavy base pan. We used Wrought Iron pan.
Ingredients
1

Medium

Butternut Squash

5

Cloves

Garlic

finely chopped

1

tsp

Paprika Powder

optional

1

tsp

Cumin seeds

optional

1½

tsp

Coriander seeds powder

optional

1½

tsp

Turmeric powder

optional

2

tsp

Rock Salt

To taste

2

tbsp

Olive Oil

Extra Virgin

1

inch

Fresh ginger root

pounded or finely chopped

1

cup

Water

1

tbsp

Roasted pumkin Seeds

optional for garnishing
Instructions
Preparing the Butternut Squash
Wash the butternut squash and cut into two halves vertically.

The skin is hard. So, peel off the skin using a peeler.

Cut the squash into small cubes about half inch on each side. Smaller pieces cook quicker and better absorb the herbs, imparting a nice flavour.
Cooking the Butternut Squash Soup
Heat the pan and add Olive oil.

Once the oil is slightly hot, add cumin seeds.

Add chopped Garlic and Ginger when the seeds start to crackle.

Once the garlic and ginger mix is slightly brown, add the cubed butternut squash pieces.

Add salt, mix well, and increase the heat to HIGH level.

Slowly keep stirring the squash so that it gets well roasted on high heat.

Slow down the heat when the squash starts to get soft, mushy, and turns to dark yellow/orange shade.

Add the spices – Turmeric powder, Coriander powder, and Paprika powder

Mix well for 1-2 minutes.

Add water, stir the mix, and cover.

Let the mix simmer on low heat for another 5-7 minutes.

Once the squash is cooked, close heat and let the mix cool down.

Once the mix is brought to room temperature, grind it using a blender or grinder.

Add some more water if needed to turn the ingredients into a puree or runny mix.

Serve with steamed rice or freshly made bread.

Garnish with freshly roasted pumpkin seeds (optional)
Notes
You can also roast the squash in an electric oven by simply setting the cubed squash pieces in a tray.
Brush the squash pieces evenly with olive oil and sprinkle the spices on top of it.
Mix all well and spread evenly on the tray.
Set the timer to 15 minutes at about 200 C.
Add it to blender, once the squash is cooked and roasted.
Add water if needed and serve!
We would love to hear from you! If you try this recipe, do leave a comment and rate the recipe! Don't forget to take a photo, tag @medhyaherbals, and hashtag it #medhyaherbals on Instagram. Eat Well, Feel Happy, and Look Awesome!
References